The inbreaking of the holy into our lives is as startling and inconvenient as an angel busting into a young woman's life and telling her she is to birth the Messiah. Artists have depicted this scene for centuries, imagining the girl and the angel in a variety of poses and attitudes. One of the most haunting, to me, is Dante Gabriel Rossetti's 1895 version.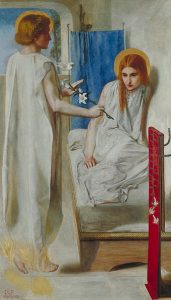 Mary looks quite like many of us would under similar circumstances: shocked, even a little appalled. Shrinking back in fear. Who, me?
This is the face and demeanor of many of us when we experience an urgent sense of calling that feels too big and too demanding.
The Bible suggests, though, through its many stories of human encounter with the Divine, that to do so would be not human, not fully and believably so, anyway. Here in the flesh is all that we can know. We are not angels ourselves, and when they break into our lives with their demands, we do what we can to take up the calling.
But let's let Mary have the last word, in case we thought maybe all she managed to do in that moment of holy encounter with Angel Gabriel was to ask some questions and exhibit anxiety. Here is what the gospel author Luke reports Mary to have said. I want us to hear this in light of this past week, in light of what our Congress in this supposedly Christian nation is doing to the poor, the powerless, the vulnerable. Here is what Miriam, a poor Jewish girl who lived under Roman occupation, responded to the angel who told her she had a part to play in world history and in the changing of the social order:
My soul magnifies the Lord
And my spirit rejoices in God my Savior;
Because He has regarded the lowliness of His handmaid;
For behold, henceforth all generations shall call me blessed;
Because He who is mighty has done great things for me,
and holy is His name;
And His mercy is from generation to generation
on those who fear Him.
He has shown might with His arm,
He has scattered the proud in the conceit of their heart.
He has put down the mighty from their thrones,
and has exalted the lowly.
He has filled the hungry with good things,
and the rich He has sent away empty.
He has given help to Israel, his servant, mindful of His mercy
Even as he spoke to our fathers, to Abraham and to his posterity forever.
Mary immediately gets that her soul and the world soul are in a beautiful concord. She understands the nature of ultimate reality to be concerned with mercy, to be more powerful than governments and the elites that support them. She understands the holy to be a force that dispenses justice and equity. She understands God to be a covenanting power that makes of separate individuals a people.
And so does our Unitarian Universalist tradition make these same theological claims.
Mary belongs to us as much as she belongs to any other faith tradition. Her courageous and empowered YES to the profound calling of the holy inbreaking into her life can be our YES, too, no matter how overwhelmed we feel, no matter how initially shocked and dismayed and fearful.  Let us know with Miriam's confidence that we too are aligned with God's purposes. We pray for this confidence in the name of Miriam and all her children, and their children's children – faithful people who respond to God's inconvenient and demanding call generation unto generation.
http://uucgl.org/wp-content/uploads/sites/59/2016/09/lynn_logo.png
0
0
Victoria Weinstein
http://uucgl.org/wp-content/uploads/sites/59/2016/09/lynn_logo.png
Victoria Weinstein
2017-12-06 19:45:56
2017-12-06 19:46:11
Advent Reflection 2017