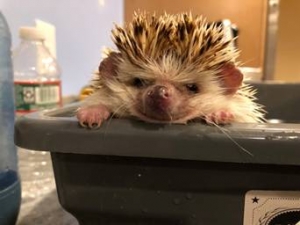 The other day, while dutifully picking up trash in the wooded area by the lower UUCGL parking lot, church member Michael Celona saw something moving in the underbrush … what could it be? A snake?
From under the leaf cover, a snout appeared, then a prickly back … could it be a porcupine? It started to walk about seemingly lost and unperturbed by Michael's presence (see photo). It shuffled over to the trash and started to nibble on a Dunkin Donuts cup and some Burger King wrappers. Searching online, Michael discovered it was a hedgehog! (What did we do before the Internet?) Sensing that this little creature could in fact be lost, and with the help of some other church members, Michael scooped it up, placed it in a box, and called the authorities to see if anyone had reported a missing hedgehog … No, no one had. Posting a photo on Facebook (again, what did we do before the Internet?), it wasn't long before a woman with a thick English accent arrived offering to foster the little guy, which she explained was an African Hedgehog, a species she was familiar with as she had other "hogs." Whisking him off, she gave him a bath (see photo) and declared that, aside from a chipped tooth and some ragged ears, he was in decent health. So, step lightly as you walk though the wilds of Forest Ave. … you never know what you'll find lurking beneath the leaves!
The UUCGL will be holding an Animal Blessing on October 7th. All pets – dogs, cats, hamsters, rabbits – and, of course, African Hedgehogs – will receive a blessing!
https://media.myworshiptimes31.com/wp-content/uploads/sites/59/2018/09/29182254/image003-1.jpg
286
255
Elizabeth Muller
http://uucgl.org/wp-content/uploads/sites/59/2016/09/lynn_logo.png
Elizabeth Muller
2018-09-21 19:28:28
2018-09-21 19:35:07
In the Wilds of Forest Ave.