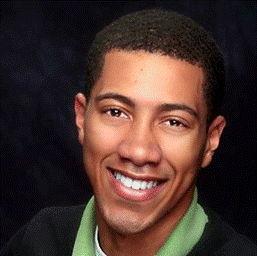 Kenneth E. Griffith II, an Ohio native, is a highly accomplished conductor, collaborative pianist, vocalist, and music director. He holds a Bachelor's Degree from the Capital University Conservatory of Music (OH) in Vocal Performance and a Master's Degree in Conducting from the Bard College Conservatory of Music (NY).
Kenneth has worked with a wide range of ensembles covering many genres of music such as choral, chamber orchestral, folk, musical theatre, contemporary, and operatic works. Having had such a breadth of experience, he brings an eclectic sensibility to his interpretation of music.
From a very early age, Kenneth began cultivating his love of music. At just eight years old, he joined the Cincinnati Boychoir and, shortly thereafter, began to study piano independently. Ravenous for high-level music performance, Kenneth continued his choral instruction under the tutelage of James Bagwell in the Cincinnati Mayfestival Youth Chorus and performed frequently with the Cincinnati Symphony Orchestra, Cincinnati Pops, and with the adult May Festival Chorus at seasonal Riverbend Concerts. In 2007, during his last full season with the Youth Chorus, it was featured on From the Top, the preeminent showcase for America's best young musicians on NPR and PBS. During the same period, Kenneth began to work in collegiate and semi-professional musical theatre – playing piano for shows like Sondheim's Into the Woods and Elton John and Tim Rice's AIDA.
As Kenneth moved into his next phase of education, he continued to perform with uniquely distinguished music ensembles such as the Capital University Chapel Choir and became a formidable collaborative pianist throughout his college years. During this time, he studied conducting with Grammy-Award winning conductor, William Boggs, and quickly established a reputation for creative vision and highly energetic performance. In 2010, Kenneth was awarded the top prize in Capital University's Student Concerto Competition in Conducting. Kenneth built upon this experience and quickly found himself thrust into the world of professional, semi-professional, and children's theatre in the greater Columbus area. His efforts paid off when he received an award for Excellence in Music Direction from the Theatre Roundtable for his work on the musical, "Chess: In Concert" with the Senior Repertory of Ohio in 2012.
After Columbus, Kenneth moved to Bard College to reunite with James Bagwell but now as a graduate student continuing his work in conducting. During his time in NY, Kenneth worked with the Bard College Chamber Singers and Symphonic Chorus, became the Chorusmaster for the Bard Opera Chorus, and the Music Director for the Bard Musical Theatre Company.
In 2014, Kenneth returned to the United States after a series of concerts at the Verbier Music Festival in Switzerland where he served as the Assistant Conductor for four different concerts. Ending that summer, he worked with the Concert Chorale of New York during the Mostly Mozart Festival at the Lincoln Center.
Kenneth continues to be active in the Massachusetts area. He is the Director of Choral and Chamber Music at Brooks School in North Andover, MA where he conducts two choirs, a chamber music ensemble, teaches private lessons, Ethics, and offers an Intro to Theatre course. Additionally, Kenneth regularly music directs theatrical shows in the greater Boston area. Recent productions include On the Town, Sister Act, Cabaret, and She Loves Me.
He currently resides in North Andover, MA along the beautiful Lake Cochichewick with his three year old Goldendoodle, Teddy.
---
To contact Kenneth Griffith, Music Director
please use the form below.
Or call: 781-595-8836 x21
http://uucgl.org/wp-content/uploads/sites/59/2016/09/lynn_logo.png
0
0
Victoria Weinstein
http://uucgl.org/wp-content/uploads/sites/59/2016/09/lynn_logo.png
Victoria Weinstein
2017-09-07 12:29:06
2018-10-19 15:54:52
Kenneth Griffith, Music Director